Blog syndication network BlogRush was launched recently amidst great buzz with the blogosphere all eager to try it out since it is created by top internet marketing guru John Reese. However, just days after the mad rush to install the widget, users across the board are reporting extremely low click-throughs.
BlogRush Statistics of A-List Bloggers
One of the first A-listers to report their BlogRush stats is John Chow. He has a total of 91 clicks out of 27,293 impressions which is a dismal 0.3% click-through rate while Yaro Starak received 27 clicks out of 11,446 impressions – about a 0.2% click-through rate. If A-list bloggers get such low click-through rates, imagine what it's like for me and Joe Blogger. Their referrals though, are high naturally with John Chow getting over 450 referrals, Yaro Starak 733 while Shoemoney has 600 referrals. Given that these top bloggers have thousands of readers, such referral numbers are to be expected. This reminds me of another once much-hyped programme, Agloco, where people benefited more from referrals than using the actual programme itself.
ProBlogger and AdesBlog do not have the widget installed. Dosh Dosh is not optimistic about the traffic but is keeping the widget around for the time being since "it's always worth playing around it for a while just to test and monitor the results." Shoemoney is keeping the widget probably because he knows John Reese personally and wants to support him.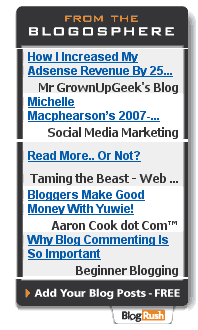 Likely Causes of Poor BlogRush Performance
Poorly Written Headlines. One problem highlighted is that the widget automatically displays the headline of your latest post which may not be your strongest, and not the one you want featured. Therefore, having well-written headlines is crucial. John Chow has presented a modification to the code which enables you to display your favourite, more attention-grabbing posts for maximum clicks. Another point to note is that if your headline contains more than 40 characters or about 7 words, the headline is cut off in the widget.
Categories Are Too Broad. BlogRush has already received feedback about its poor performance and John Reese sent emails to members explaining that besides poorly written headlines being one the causes of low click-through rates, putting your blog in a category that is very broad by nature, such as Entertainment results in blog titles served being not well targeted. Indeed, users are reporting irrelevant headlines been displayed. BlogRush is working to increase the number of categories.
Poor Positioning Of Widget. The widget is big. Many feel that since the it does not earn any income directly, most are reluctant have an unproven widget occupy that much prime space above the fold where it would likely get more clicks. So the widget is commonly placed at the bottom of the sidebar resulting in visitors missing it altogether. Some bloggers also think that the widget, being non-customisable, clashes with their blog theme.
Click Fraud. With every system, there will be those who try to game it for their own benefit. Fraud activity ranges from running scripts to auto-load the widget, to trying to hide the widget in an invisible frame, to spam and more, creating a false number of impressions that are not seen by humans. Bloggers have reported BlogRush statistics as being not totally accurate with stat counters recording more clicks than is reported in BlogRush stat reports. I notice this for my stats too.
What BlogRush Is Doing About These Problems
The problem must be rather severe because as I write this, BlogRush has posted the following messages on member dashboards explaining the low click-through rates and is even giving away credits to all members in a bid to stop them from dropping out.
IMPORTANT MESSAGE: Click- through rates are very low right now due to problems with some users cheating the system. We are a few days away from removing all abuse from the system and you will see your click-rates increase. We are also moving to a Manual Review Process for all member blogs which will also increase the traffic you receive. Thank you for your patience — we're working hard to improve this beta version of our service.
Special Note: All Members are currently receiving BONUS CREDITS that are not yet reflected in these statistics.
My BlogRush Statistics
Finally, for those of you wondering what the click-through rate is like for me, here is the screen shot of my BlogRush stats. That's about a 0.18% click-through rate.
Lovely.
BlogRush supporters will say that the widget should be given more time to prove itself. However, the number of impressions is greatest when the widget is newly installed and declines after that to the point where normal daily blog impressions outnumber those delivered by the widget making it quite ineffective. Ultimately, the huge BlogRush widget is not worth the real estate it occupies. I would do better to put some advertising in its place and make some money instead.
UPDATE: BLOGRUSH IS DEAD. Founder John Reese has just announced that BlogRush is closing down and all those who still have the widget on their blogs need to remove it. This free self-promotion widget only got the publicity it did because John Reese is a supposed famous name in internet marketing and all the A-list bloggers, eager to kiss his ass, promoted it on their blogs too even though early results spoke loud and clear – BlogRush sucked right from the beginning.